CFSI's Ceremonial Handover of Livelihood Grants
Zamboanga City – It has been two years since the armed conflict broke out in this city and affected an estimated 100,000 persons. Various forms of assistance were brought to the affected populations to cater to their immediate needs, in particular those who were internally displaced during the siege. These days however, help is now focused on bringing them back to normalcy, a goal the Community and Family Services International (CFSI) and the Australian Department of Foreign Affairs and Trade (DFAT) are aspiring to achieve.
In a three year partnership named the Zamboanga Recovery Project (ZRP) running until December 2017, CFSI and DFAT, together with the Catholic Relief Service and the World Health Organisation, are hoping to contribute to rebuilding the lives of the most vulnerable people displaced by the siege two years ago.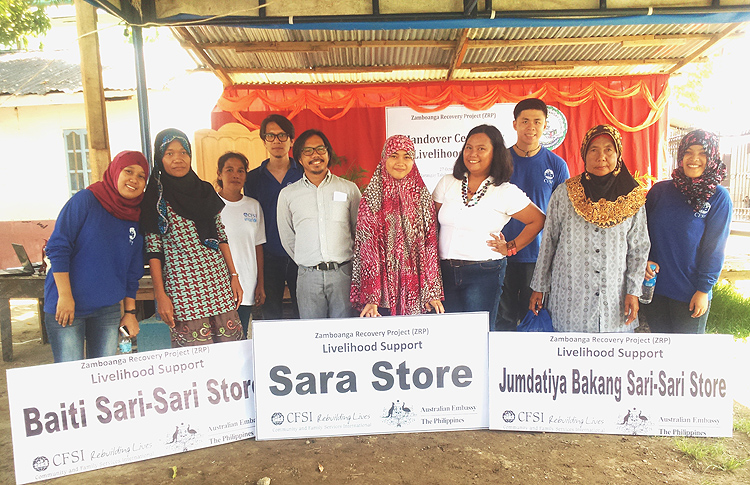 Reestablishing livelihood stability remains as one of the greatest needs of IDPs in Zamboanga City. Through the livelihood assistance delivered by CFSI, the partnership hope that IDPs are ushered back as productive members of society and able to participate in the local economy. At least 1,000 internally displaced families will be provided livelihood grants under the Zamboanga Recovery Project.
CFSI will be rolling out livelihood grants to families displaced by the conflict and are now living in transitional sites across Zamboanga City. A ceremonial handover of the first batch of livelihood grants was held on 27 October 2015 in Barangay Taluksangay, one of the transitional shelter sites housing internally displaced persons (IDPs).
"Right after the siege, CFSI and DFAT committed to restore the dignity, increase hope and provide opportunity to IDPs through livelihood assistance," said Vladimir Hernandez, Director for Philippine Programme of CFSI. "We hope that the ZRP will result in a greater quality of life, not just for the actual beneficiaries, but also for their families, relatives, and neighbours," he further said.
Among the livelihood grants to be featured in the handover are seaweed farms, sari-sari stores, fishing boats, and pedicabs. The event was graced by officials from Zamboanga City and Barangay Taluksangay. Other humanitarian actors such as UN OCHA and UNHCR were also present during the handover ceremony.
Keep posted for more stories related to CFSI's livelihood program!