CFSI's post-typhoon humanitarian relief operations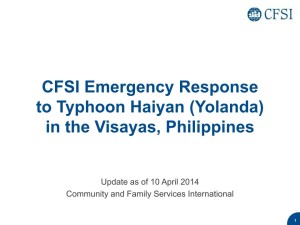 Typhoon Haiyan (known locally as Yolanda) struck the Eastern Visayas region of the Philippines with devastating force on November 8, 2013, bringing with it extreme wind speeds, a massive storm surge and heavy rainfall. It was the deadliest typhoon to ever make land in the Philippines, and was one of the most powerful ever recorded globally.
The typhoon made land six times as it passed through the Philippines, affecting more than 13 million people, displacing more than 4 million, killing more than 6,000, and either damaging or destroying more than 1 million homes.
In response to the unprecedented scale of devastation, CFSI launched a range of emergency interventions in the hardest hit areas. This document (click on the link below) outlines the work the organization has been doing in the five months since the typhoon to help rebuild lives in the Philippines.
CFSI would like to extend its heartfelt gratitude and appreciation to all who have supported us in our multi-faceted humanitarian relief efforts.
CFSI Emergency Response to Haiyan – April 2014