Stories from the Field: A Father's Aspiration
This story is a testimony of a father. A fellow Maranao. An Internally Displaced Person. A survivor of the event that befell our very own Islamic City of Marawi on 23 May 2017. The siege of Marawi City left many to leave their homes and lose their livelihoods, as well as loved ones, relatives, and fellow Maranaos.
I saw a man lying on his bed in one of the tents in Pantar, Province of Lanao Del Norte. I've know him for awhile now as he was one of the first people we at CFSI served during the Emergency Response. As I approached him, I smiled and greeted him. I said "May Peace be upon you, how are you?" to which he responded "I am fine." After urging him to say more about what he felt or thought, he began to share. And I could not help but to feel grief and heart ache.
He began with heartbreaking statements. "First of all, we lost our homes. It was burned to ashes. We also lost our means of livelihood. So now, how do we sustain the family?" he asked me. He continued and added "Yes, the government is providing us food, specifically the Department of Social Welfare and Development. But this food is enough for one to three weeks only. What about our other expenses? I don't think the government will provide for that." A moment of silence became my only reaction.
What struck me during our conversation was his emphasis on the necessity of going back to Marawi in order to begin rebuilding lives. "It is not enough that we stay here in Tent City and continue this life of only sleeping, eating, and doing almost nothing. We need to find jobs and a means of livelihood. It is my desire to go back to my place of origin, with God's mercy, and to live again and truly begin the process of Bangon Marawi."
Despite criticism of the current situation, this man expressed his gratitude to the government's support and to those of us who came here and helped them. In turn, it is him I would like to express my deepest thanks to — for giving me the opportunity to hear my own sentiments and aspirations through the eyes of another.
His story is only one amongst the many of the Internally Displaced Persons devastated by the siege. It is a summary and reflection of a provider's aspirations to find a job and/or a means of livelihood in a conflict-affected community, for the sake of family. And while this may prove to be difficult, one can only hope and pray that this too shall actualise one day.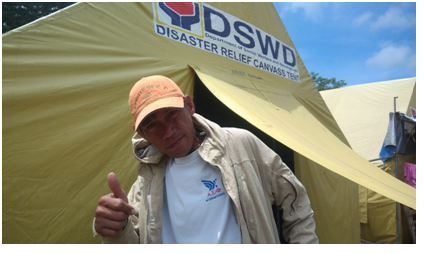 — Fahada B. Camim