Where We Work
CFSI is currently carrying out operations in the Philippines, Myanmar, and Viet Nam. CFSI hopes to soon re-activate its Cambodia operations.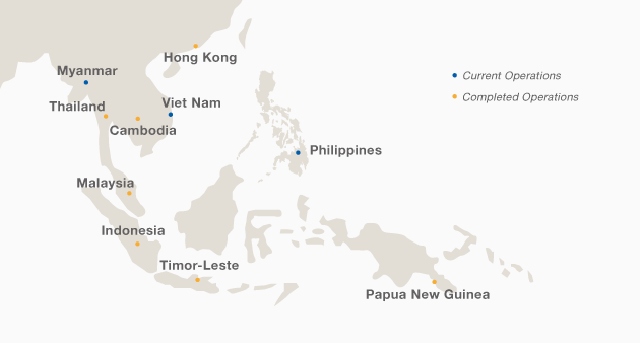 Philippines
CFSI operations in the Philippines are multi-faceted and aim to address the complex realities of armed conflict, natural disasters, persecution, and severe poverty. At present, much of CFSI's work is focused on people affected by armed conflict and natural disaster in Mindanao and the Visayas. In this complex environment, CFSI provides humanitarian assistance and contributes to early recovery, reconstruction, and development. Since the country is prone to typhoons, earthquakes, volcanic eruptions, landslides, flooding, and other disasters, CFSI provides emergency relief and recovery services including psychosocial support to survivors. CFSI is also increasingly investing in disaster risk reduction (DRR) in vulnerable communities. CFSI works across the archipelago to protect refugees, stateless persons, and asylum-seekers from other countries, continuing a record of service since its inception in 1981. In Pasay City, CFSI organizes communities to prevent the exploitation of children and youth, and to promote their welfare.
Partners of CFSI, specifically, the Government of the Philippines and the World Bank, have long-standing cooperation on development issues in the country. These cooperative efforts are guided by agreed-upon policies, such as the Environmental and Social Safeguards Framework (ESSF), which aims to ensure that development activities are environmentally and socially sound, as well as sustainable. CFSI supports the ESSF in connection with its responsibilities as a Trust Fund Recipient of the World Bank and a partner of the Bangsamoro Development Agency (BDA) for the multi-donor Mindanao Trust Fund for Reconstruction and Development Programme.
Myanmar
In Myanmar, especially Northern Rakhine State, CFSI has worked closely with the international community as well as national and local stakeholders to protect and assist vulnerable and disadvantaged communities, promote their development, and help ensure their welfare. This expanding operation prioritizes women, children, youth, and includes education, livelihood, social services, and efforts to promote inter-ethnic peacebuilding.
CFSI is in the early stages of cooperation with Myanmar's Ministry of Social Welfare (MSWRR). This is expected to include at least four years of cooperation in human resources development, specifically social work education. The ultimate aim is enhanced social protection for disadvantaged and vulnerable populations.
Viet Nam
Building on its experience in Viet Nam since 1992, CFSI is helping to reduce vulnerability and promote social justice by enhancing the service capacity of the social work community. CFSI has partnered with the Ministry of Labour, Invalids, and Social Affairs (MOLISA), the academe, and non-governmental organizations carry out the Social Work Education Project in Viet Nam (SWEP-Viet Nam). This cooperation, expected to continue through at least 2017, aims to strengthen social work education and training, and to contribute to social development.
In addition to these countries, CFSI has worked in Hong Kong, Indonesia, Malaysia, Thailand, Cambodia, Timor-Leste (East Timor), and Papua New Guinea. CFSI is based in Metro Manila, Philippines.
Image credit: GThird Atanque/TanQ Media